Skip to Content
Elevate the Outdoors With Exterior Shades in Houston, TX
THE FROG Blinds Shutters Drapes will provide your patio, porch, or deck with state-of-the-art exterior shades in Houston, TX. Our selection of shades will significantly improve your outdoor experience by regulating light, temperature and preventing unwanted insects. Cutting-edge motorized shades allow you complete control over your settings and preferences, enabling you to adjust your shades easily. You'll love the elegance, convenience, and enhancement of the outdoors our exterior shades provide.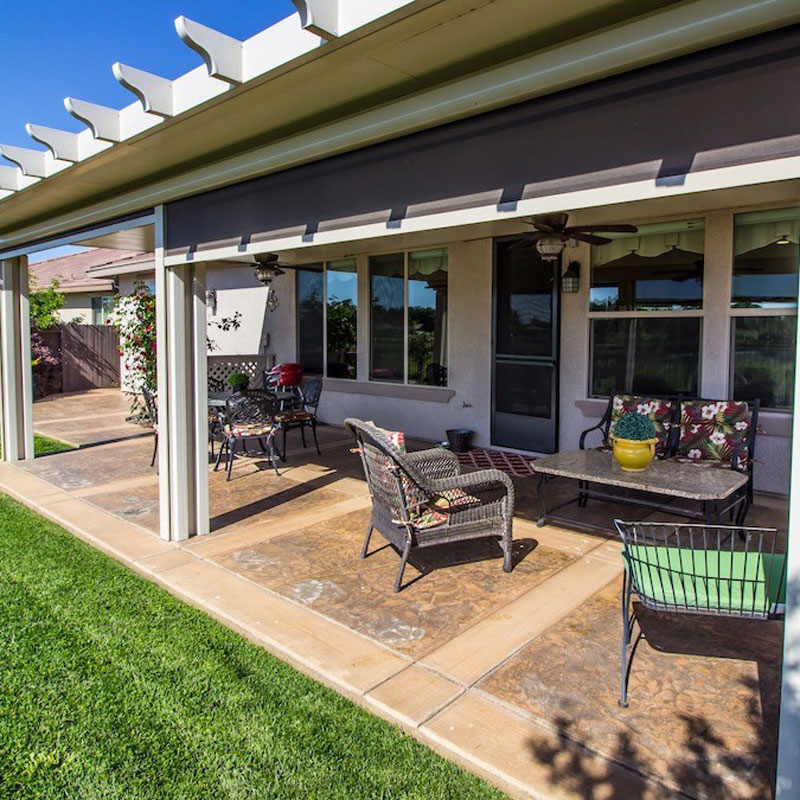 Why Choose Our Exterior Patio Roller Shades?
We source our exterior shades from the highest quality providers in the nation. You'll love the control you have over the heat and sun with our motorized shades, which allow you to control settings and preferences at the click of a button. Whether you want to shade for your patio, porch, deck, or beyond, we're here to provide you with the exterior shade advantage.
Reduces and regulates temperature for outdoor and indoor spaces.
Protects outdoor and indoor furniture from harmful UV rays.
Reduces glare and prevents the sun from obstructing your view.
Prevents mosquitos, flies, and other annoying insects from entering.
Allows you to interact with nature and enjoy a beautiful view.
Offers complete motorized control over settings and preferences.
Beautify your space with a range of color, fabric, and texture options.
Ensures proper function with cutting-edge, natural-looking hardware.
Why Do I Need A Patio Shade?
Many homeowners love the idea of having a patio, porch, or deck they can enjoy during pleasant weather. However, factors such as high heat, the sun's glare, and annoying insects tend to hinder an otherwise positive experience.
Installing patio shades in your outdoor space reduces or prevents these nuisances from intruding on your fun and relaxation. You can bask outdoors and feel comfortable doing so with quality exterior shades.
Enjoy the Convenience of Motorized Shades
We offer motorized control options for your complete convenience. Lift and pull down your shades without having to interrupt your leisure time. You can control your shade preferences at the click of a button.