Skip to Content
Motorized Window Treatments in Houston, TX
Virtually every product can be outfitted with a motorized system. We offer the most innovative technology in the industry. The system appropriate for your custom window coverings depends mostly on the brand and type of product you purchase.
The FROG has experience with motorization options for Serena, Somfy, and Hunter Douglas installations.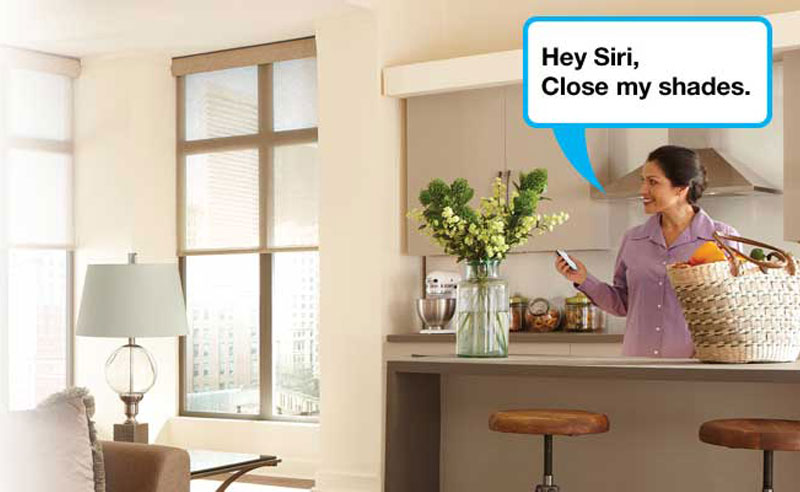 Lutron Smart Bridge
Control your Shades using Siri directly from your iPhone, iPad, or iPod Touch. Order your Serena Shades and Smart Bridge today for HomeKit compatibility.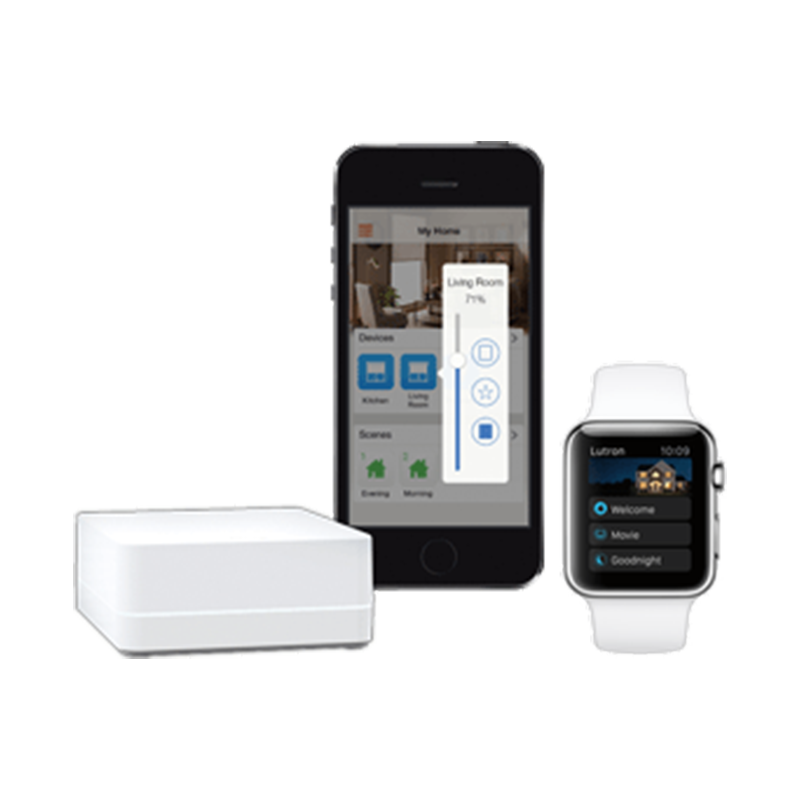 Control Lights and Shades With Your Smartphone
With the Smart Bridge connected to your internet router and the free Lutron App, you can operate Serena shades (and Caséta Wireless smart lighting) from IOS devices including Apple Watch, as well as Android devices. Lutron was one of the first Apps to be available for the new Apple Watch wearable.
With the Lutron App you can:
Control lights and shades from wherever you are – office, airport, beach or home.
Add scenes to control multiple lights and shades together – create a "movie" scene to dim lights and close shades for the perfect home theatre experience.
Schedule lights and shades to adjust automatically at any time of day.
Talk to Siri at home on iOS devices to control HomeKit-enabled Serena Shades and Caseta Wireless Smart Lighting.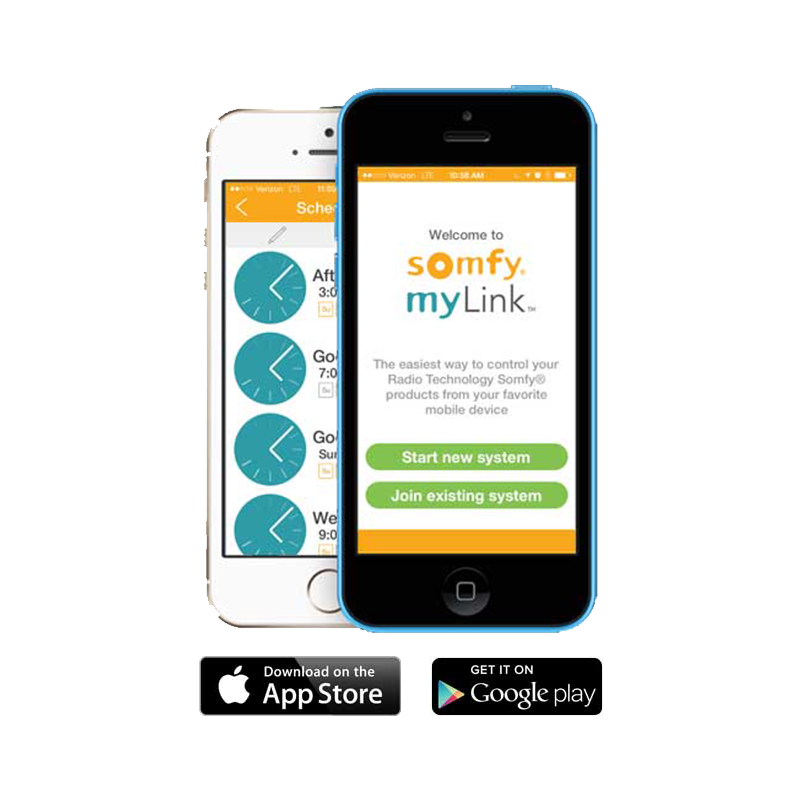 Somfy Mylink™
Control your window coverings, awnings, screens and rolling shutters with a smartphone or tablet!
With MyLink, it's easy to transform your experience with Somfy-powered motorized solutions and maximize the benefits that they provide, such as energy savings, privacy, comfort, and convenience. The MyLink puts you in control so that you can operate your motorized shades, blinds, awnings, screens, and shutters with your favorite mobile device whether you're home or not.

App Control
Harness the power of your favorite mobile device and upgrade to a convenient and relevant control option for Somfy-powered solutions.
Timed Events
Schedule scenes to automate motorized applications on a seven-day schedule so you can effortlessly enjoy their many benefits.
Flexible
Choose the best way to control your motorized applications with options such as individual control, group control, and more.
Remote Access
Activate Somfy-powered applications even when you're away from home with a single tap to maximize the many lifestyle benefits they provide such as energy savings, UV protection and privacy.
On-Screen Setup Wizard
Intuitive installation and setup allow you to enjoy your myLink experience in a short few minutes.
Compatible
Controls all Radio Technology Somfy® RTS products including blinds, shades, curtains, screens, awnings, and rolling shutters as well as RTS enabled lighting devices.
Hunter Douglas Motorized Operating Sytems
Innovations Deliver Far More Than Greater Convenience
Intelligent Shades That Simplify Your Life
Imagine a world where your window treatments can adjust themselves automatically, creating the perfect room ambiance morning, noon and night. That's the beauty of PowerView® Motorization — recipient of the 2018 Red Dot Design Award – the most coveted and prestigious designation in the world of design.
Just program PowerView to move your window treatments to the exact position you want and then control and schedule them using the intuitive PowerView App on your smartphone or tablet. You can also operate your PowerView settings using the stunning new PowerView Pebble® Control.
Available in an incredible range of sophisticated styles, PowerView Motorization creates a whole new world of beauty and convenience.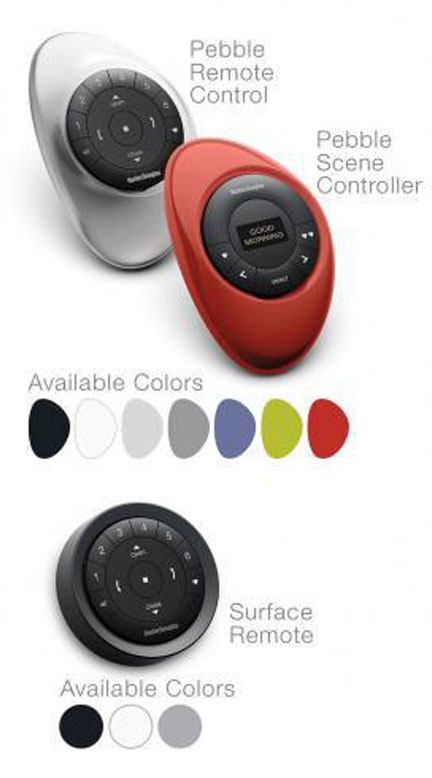 Features & Benefits
The PowerView system can be operated via the PowerView App or via two different types of Pebble controls – a Pebble Remote Control or a Pebble Scene Controller.
The PowerView Pebble Remote Control offers a modern alternative to a traditional remote control, allowing you to pre-set and easily operate up to six different groupings of window treatments – either individually or together – with just a press of a button.
The PowerView Pebble Scene Controller features an advanced display screen that lets you conveniently preview and select room scenes – different combinations of shades and shade positions that you previously programmed using the PowerView App.
Ergonomically designed and beautiful to look at, the PowerView Pebble is available in seven stylish colors to enhance any décor.
You can also wall mount a PowerView Remote or Scene Controller using the PowerView Surface, available in three on-trend colors.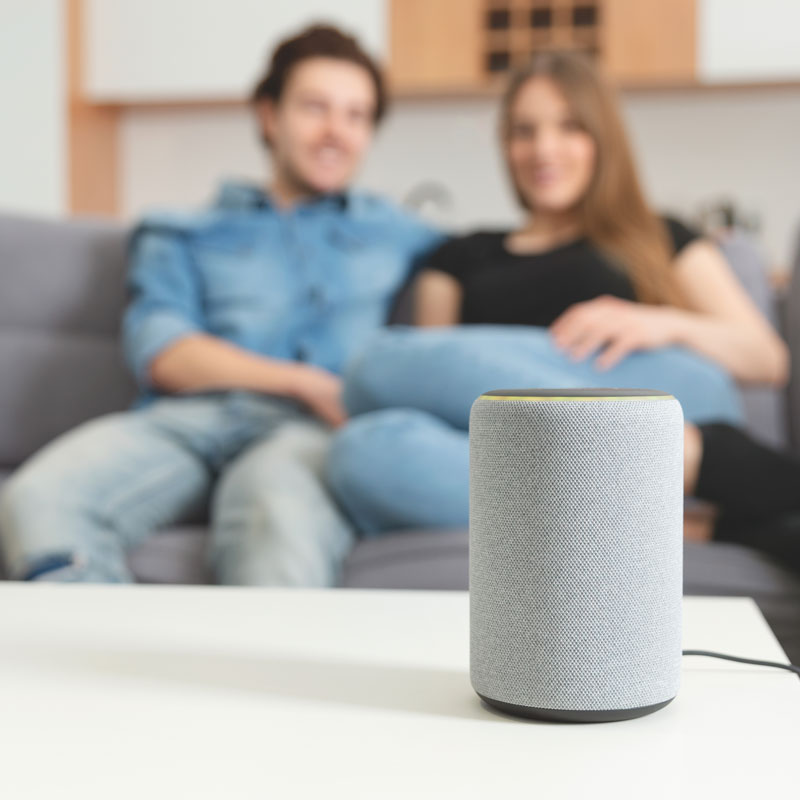 Voice Control
Operating your shades is easier than ever with voice control powered by Amazon Alexa, Apple Homekit, or Google Assistant.
Our team can help you add voice control to your motorized system.
Powerview Motorization
Virtually every product can be outfitted with a motorized system. We offer the most innovative technology in the industry. The system appropriate for your custom window coverings depends mostly on the type of product you purchase.
Motorized operating systems from Hunter Douglas Window Fashions offer unmatched convenience, reliability and enhanced child and pet safety.
Call us at 713-840-0844 and ask about the Hunter Douglas motorized operating systems.