Skip to Content
Commercial Window Treatments in Houston, TX
THE FROG Blinds Shutters Drapes offers a wide selection of fabric, color and functionality you need for your commercial window treatments in Houston, TX. Our window covering solutions will meet architectural specifications and certification for new construction. These blinds, shutters and drapes are offered with manual and motorization lift and a wide range of options for becoming part of Home Management System. The FROG and its installers are insured. We know how to work with developers, contractors, architects, designer and property owners. Our team will ensure your project is handled with care every step of the way from planning to completion.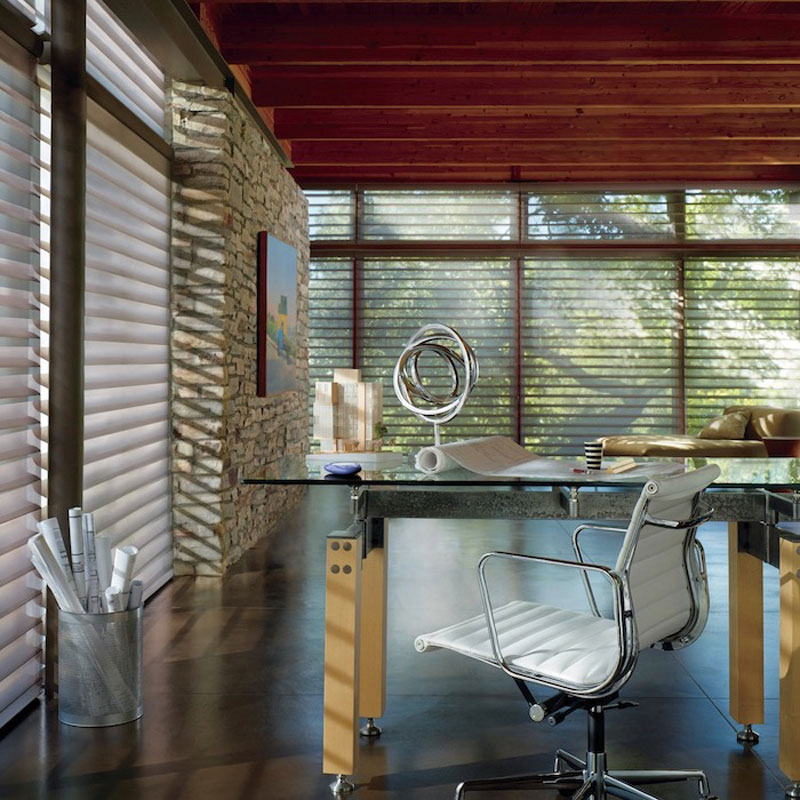 What Can Our Treatments Do for Your Business?
From helping day-to-day productivity in the office to helping create an atmosphere suitable for any restaurant, window treatments play an integral role in elevating the aesthetics, efficiency, and comfort of any commercial property. A dramatic lobby or meeting room will say a lot about any project. Whether you want to provide your customers with privacy and lighting, give your employees better control of the environment, or make a design statement with window treatments that make your commercial property better.
Office
If you want to impress new clients entering your office or keep your employees comfortable during their workday, window treatments allow excellent control of light and energy and contribute to an attractive workplace.
Health Services
We understand how important it is for health care providers to contribute to their patients' peace of mind. Our window treatments are available in a wide array of fabrics, colors, and textures to make your patients feel comfortable and at home in your practice.
Restaurant
Aesthetics is an essential component of a terrific dining experience. Choose from our selection of window treatments to complete your restaurant aesthetic and set the mood for a night of food, drink, excitement, and an unforgettable experience.
Highrise and Multi-Family Housing
When your guests arrive at your hotel, or tenants or residents use a common area, they'll be amazed at how beautiful window treatments accentuate the beauty of your décor. Window treatments can make a guest's stay and say volumes about the quality of a development.